RD2910 Portable 2D RFID Reader and Writer
Source:Powered | Author:admin | Time:2019-01-18 | Views:919
The RFID solution is an RFID application solution developed by RFID technology providers for the development characteristics of the industry. It can be tailored to the actual requirements of different enterprises.
RFID solutions can be classified according to industry, logistics, anti-counterfeiting, identification, asset tracking management, animal tracking management, fast payment, personnel management, health care management, oil and gas industry technology, railway management system, supply chain management, library Management system and more.
RFID Logistics Solution
Radio frequency identification can be used to track and manage almost all physical objects, so it can be used in a wide range of industries. Typical applications include:
(1) Supply chain and logistics management
(2) Manufacturing and assembly
(3) Baggage, mail and parcel handling
(4) Identification, anti-counterfeiting, access control and anti-theft systems
(5) Document Tracking / Library Management
(6) Traffic management and urban planning
(7) Service experience and CRM
(8) Spatial location and tracking
(9) Pervasive computing
UHF RFID 900MHz GEN2,ISO / IEC 18000-6C / 18000-6B (optional).

1D laser or 2D barcode scanning

can be performed, and the reading rate of rfid tag reaches 20 per second. Dual-core 1.0GHz processor with 1GB RAM / 8GB ROM with Bluetooth, WLAN,3G, GPS network module,Molded with the latest environmentally friendly and light materials.
Shenzhen RAKINDA Technology Co., Ltd

. is specialized in the development of smart card hardware and software systems, production, sales and operations in one of the national high-tech enterprises. Products are widely used in city card, park area, retail businesses, parking fees, government platforms and other consumer areas. With years of focus on management, innovation and development, the company in the industry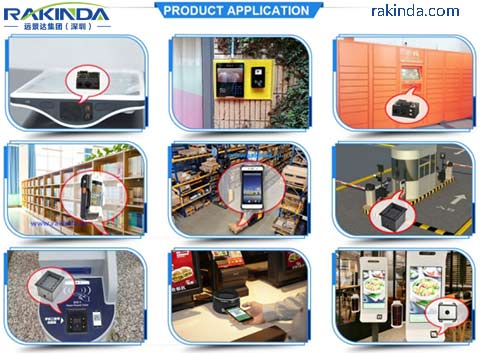 Has a wide range of customer base and industry reputation, to achieve the city card applications and urban bus intelligent scheduling management.
RAKINDA engaged in

barcode technology

research and development for more than 18 years, we have a mature R & D team and overseas markets, we can help you quickly and easily realize unattended dream.
Contact Us:
If you want to know more information? Please fill in the following message form, we will contact you in the first time.