Deploy the smart face recognition and temperature measurement machine on NEMT
Source:Powered | Author:admin | Time:2021-12-13 | Views:792
Foshan NEMT candidates were required to face recognition verification when entering the examination room this year.Candidates only need to pass through the special channel orderly in accordance with the guidelines, and enter the examination room after passing the mask test,
face recognition authentication and temperature measurement
.At present, the Ministry of Education and other relevant departments are actively cooperating, deploying in advance, and coordinating the normalized epidemic prevention and control and college entrance examination work to ensure the safety and health of the majority of candidates and staff involved in the examination.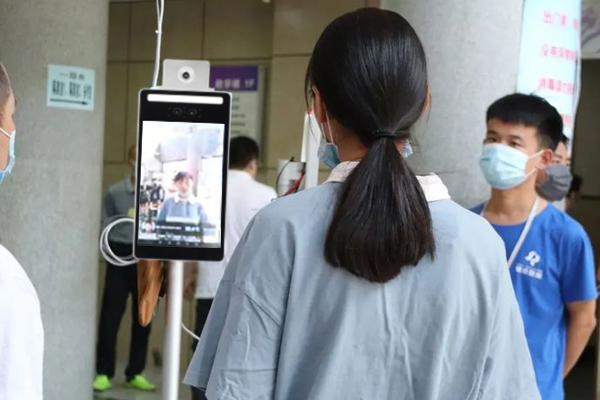 It is reported that Foshan NEMT examination room deployed the application of intelligent
face recognition and temperature measurement integrated machine
this year.On the one hand, it is to upgrade the identity verification method; on the other hand, it is to ensure the smooth progress of the anti-epidemic work of the NEMT and create a safe and fair examination environment for the candidates.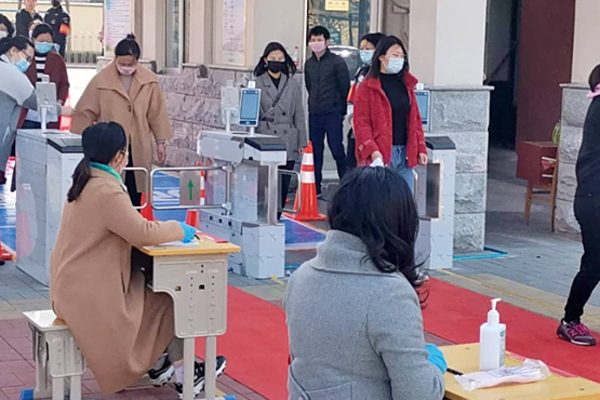 Under the normalized epidemic,How does the NEMT use the intelligent
face recognition and temperature measuring terminal
to identity the verification of candidates?
First of all, under the monitoring of face recognition+ID Card reader,the candidates' ID can be double-checked,the detection efficiency can be improved through face recognition, it can prevent others from fraudulent use of identity or substitute exams to make sure the Fairness of examination.
Secondly, the identity of entering and exiting personnel is verified through face recognition, which facilitates the entry and exit of examinees and invigilators, and also effectively prevents foreign personnel from entering the examination room and disturbing the order of the examination room.
At the same time, Foshan recently reported local confirmed cases. Under the epidemic prevention and control, various epidemic prevention measures must be put in place, such as temperature testing codes, disinfection and sterilization, etc.It needs to be pointed out that through the intelligent face recognition and temperature measurement integrated machine, the health code and the health code of the national government platform can be connected on the basis of face recognition, body temperature detection, and real-name authentication. The epidemic prevention checking can be quickly completed by simply swiping the ID card. (automatic temperature measurement, health code verification and inspection 14 days itinerary) and examinee identity verification.
RAKINDA, as the technical support provider for accurate epidemic prevention of health codes, provides the most suitable health code facial recognition and temperature measurement all-in-one machines and solutions for college admissions examination face recognition, automatic temperature measurement services, and health code intelligent verification services to escort candidates across the country for college entrance examinations, quickly realize the functions of identity recognition, document verification, mask recognition, intelligent temperature measurement, health code query and 14-day itinerary inspection in the examination room scene, and implement epidemic prevention measures such as temperature test codes at college entrance examination sites.
Contact Us:
If you want to know more information? Please fill in the following message form, we will contact you in the first time.