RK65 Datamatrix Industrial barcode scanner
Source:Powered | Author:admin | Time:2022-02-18 | Views:461
Barcode scanner is very popular in China now. There are many different types: handheld gun scanner suitable for shooping store, restaurant, hospital and warehouse, wearable ring barcode scanner, mini size
Arduino barcode scanner module
suitable for PDA or POS project , fixed mount barcode scanner suitable for kiosk or turnstile, self-service cabinet project. And today, I wanna introduce our very hot
Industrial barcode scanner RK65
, very suitable for production line to scan moving barcode no matter 1d or QR or Datamatrix.
RK65 scanner support USB or RS232 or Ethernet port, and IO controller box is connected with the scanner together, so it can connect with omron sensor, which is very suitable for production line to scan QR or Datamatrix barcode.
RK65 industrial scanner manin features as below:
1: Industrial Scanning Performance
Armed with RAKINDA third generation decoding technology, it has excellent performance in scanning various codes.
2: Smart Illumination System
Armed with smart illumination adjusting function, it can meet all general environment as
well as production line demand scanning environment, such as different materials
(refection for example), shape (curved surface), background and code color.
3: Flexible I/O extensible interfaces
With I/0 extensible interfaces, the scanner can realize 1 way out photoelectric coupled
isolate input (NPN / PNP /relay) and two ways out photoelectric coupled isolate output
(Good ; NG). It can control the external device.
4: IP65 Grade
Dust proof and waterproof.
RK65 barcode scanner main application as below:
Metal manufacturing, electronics manufacturing, auto parts etc. Industrial production line quality management and tracking management.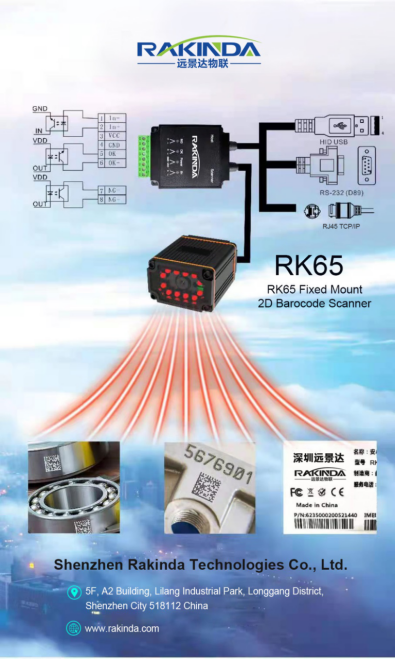 Recently, many Russian clients orderd RK65 model, also have other clients from Argentina, Iran, Malaysia. Most of them use this scanner for production line to scan Datamatrix barcode, the barcode size also different, some small about 3mm, some biger about 1cm.
Anyway, if you have similar project, you can contact us freely.
In the past 20 years, RAKINDA has accumulated rich experience in the automatic identification of the Internet of Things. It has successfully assisted in the hardware solutions of major, small and medium-sized production line barcode scanning and identification projects. Its products include Datalogic, Cognex, Newland and Rakinda's industrial barcode scanning products. Outstanding DPM, 1D, and 2D code decoding capabilities, ultra-fast image acquisition and excellent high-speed mobile barcode reading capabilities, can be easily integrated into small spaces and can also meet high-speed production lines application requirements. With strong independent research and development strength, rich experience in barcode scanning application integration projects, and excellent product characteristics and application performance, it has also won a good market reputation and brand value for itself.
Contact Us:
If you want to know more information? Please fill in the following message form, we will contact you in the first time.