PRODUCTS
TF88 Stainless Steel Automatic Thermometer Soap Liquid Dispenser
Details
Description of Temperature Disinfection Kiosk
This Touchless Hand Gel Dispenser is to measure temperature based on infrared technology and it has a long beep when high temperture while a short beep for normal temperature. The buzzer is long at high temperature and short at low temperature.The thermometer and dispenser kiosk combines temperature measurement and disinfection.Users only need to put their hands under the sensor part, the device can measure the body temperature and also offers auto-sense hand sterilization.
It can be widely used in schools, hotels, customs, banks, household and other public area.
Automatic Sanitizer Dispenser Features
*2 ways of power supply
*Using High-precision Infrared Sensor, Stable and Reliable Performance
*Strong Temperature Adaptability,Can Still Be Used Normally in Complex Environment
*Automatic Temperature Measuring&Disinfection
*Free conversion between ℃ and ℉
*Intelligent Digital Display, Clear and Soft Display
*High Temperature Automatic Alarm Will Be Triggered to Warn People Around when Tested Human Body Temperature Exceeds 38℃
Parameter of Automatic Thermometer Hand Sanitizer Dispenser
Temperature Measure and Dispenser Kiosk Datasheet-EN
Product name

Automatic Hand Sanitizer Machine

Product Type

TF88

Product Size

69*40*18CM

Product Material

SS304+PMMA/SS201

Max Power

3W

Power Supply

4pcs AA Batteries or DC5V2.1A

Product Features

Detection of body temperature and automatic induction of no-wash hand sanitizer disinfection

Body Temperature

Dsiplay:

Digital Display

Measurement Method

Infrared Sensor

Temperature Measurement Distance

5-10CM

Temperature Measurementrange

Body temperature (32°C to 42.9°C, 89.6°F to 109.2°F)

Allowable Error

±0.2°C

Temperature Measurement Time

2S

Bottle Capacity

1000ML

Liquid Type

No wash hand sanitizer, Ordinary hand sanitizer

Discharge Method

Infrared Sensor

Working Environment

10°C〜40°C(50°F〜104°F) Humidity V85%

Storage Environment

-20°C〜55°C(-4°F〜131°F) Humidity V85%

Weight

12KG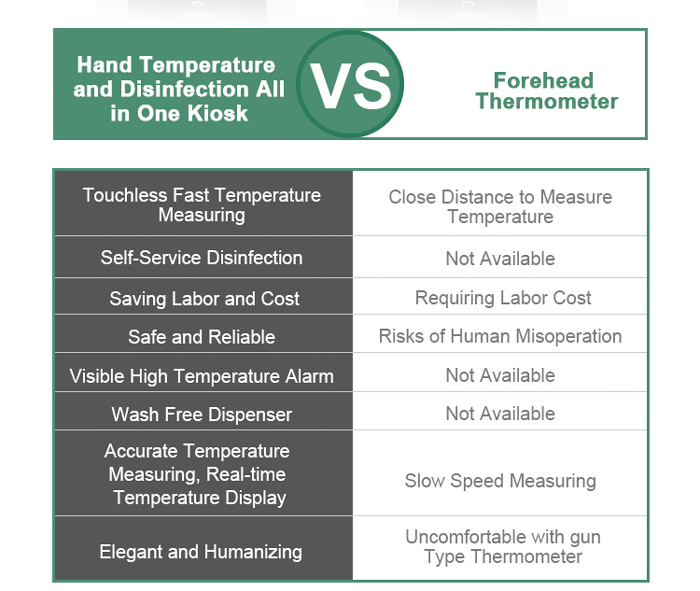 Contact Us:
If you want to know more information? Please fill in the following message form, we will contact you in the first time.
Related Products: