LV5300 QR code scanner for face recognition equipment terminals
Source:Powered | Author:admin | Time:2023-11-15 | Views:101
Thanks to smart technology and automatic identification technology, our lives have become more convenient. For example, applications related to reading terminals such as face recognition equipment that can be seen everywhere not only require efficient face recognition rates to ensure rapid and accurate identification of user identities, but also require the introduction of fixed or embedded scanners such as scanning modules. Improve users' QR code scanning experience. The face recognition industry and the field of face scanning and code scanning have put forward higher requirements for technical parameters such as decoding performance, scanning range, ambient light and protection level. Therefore, in various QR code scanning applications, it is necessary to be lightweight, compact, and capable of scanning. and scanning modules with better decoding performance to meet the needs of different industries.
RAKINDA is committed to the R&D and production of intelligent hardware for face-scanning and code-scanning scenarios, and has launched a high-looking, high-performance
LV5300 embedded 2D device
suitable for face recognition equipment terminals, face recognition access control and other face-scanning and code-scanning scenarios. Code scanner.
The Rakinda LV5300 code scanning module is a thin
embedded barcode reading engine
. It adopts the independently developed sixth-generation UIMG® core decoding technology and can quickly read barcodes and QR codes of various qualities. It has excellent The recognition capability and millisecond-level decoding speed meet users' requirements for code scanning efficiency and accuracy. It is understood that this high-performance embedded CCD two-dimensional barcode reader is specially designed for OEM product applications. It can be installed and embedded in a customized appearance structure, and can be adapted to various face recognition equipment terminals that have structural size requirements.
Access control terminals
, desktop mobile payment devices, etc. Whether it is daily face scanning and code scanning, code scanning for payment, or access control code scanning, electronic ticketing, etc. in high-frequency scenarios, it can respond quickly and maintain stable scanning performance.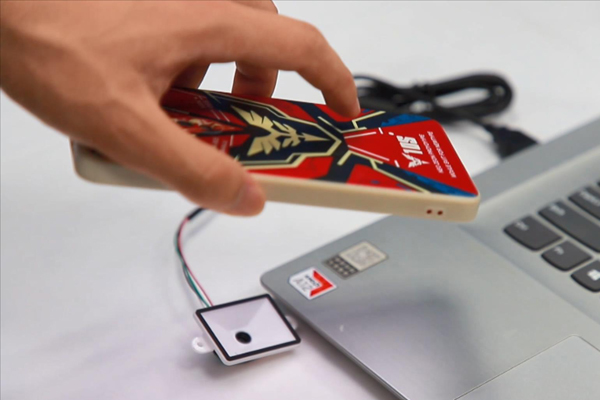 In addition, in addition to its excellent code reading performance on mobile phone screens, the LV5300 scanner also has a special skill - quick sleep and wake-up. When the mobile phone screen is close to it, it can quickly enter the working state, switching without perception, which can greatly reduce operating power consumption. .
LV5300 Rakinda QR code scanning module product features:
● UIMG® core technology
Using the self-developed sixth-generation UIMG® core decoding technology, it can quickly read barcodes of various qualities.
● High integration
The size is reduced to the extreme, which can meet the needs of various miniaturization applications.
● Green and low power consumption
Adopting independent NLDC core technology, it greatly reduces operating power consumption and extends the service life of equipment.
Contact Us:
If you want to know more information? Please fill in the following message form, we will contact you in the first time.